The intricate motifs and superior craftsmanship of the traditional embroidery is known as chikan, which is produced in the Indian subcontinent. As a result of this traditional skill's centuries-long evolution and diversity, Chickan Embroidery Suits designs appear in a variety of forms and types. Chikankari is an ancient kind of embroidery which has both Indian and Western fans. Chikankari embroidery designs are surely a delight because they are delicate, romantic, dreamy, and subdued.
Chikankari embroidery is an embroidered style that originates from Lucknow, India. It is an ancient art form with roots in the Mughal Empire. All other traditional embroidery techniques differ from the Chikankari embroidery technique. The basics of chikan work have not changed even though modern chikankari incorporates a number of old techniques. Chikan embroidery suits are really in demand now a days. The availability of chickan embroidery suits online is also very easy today.
Chikankari themes are grounded in nature, just like all art forms with Mughal origins. This type of embroidery work and lucknow chikankari art-work frequently feature abundant flowers, leaves, and paisley patterns.
Different types of chikankari embroidery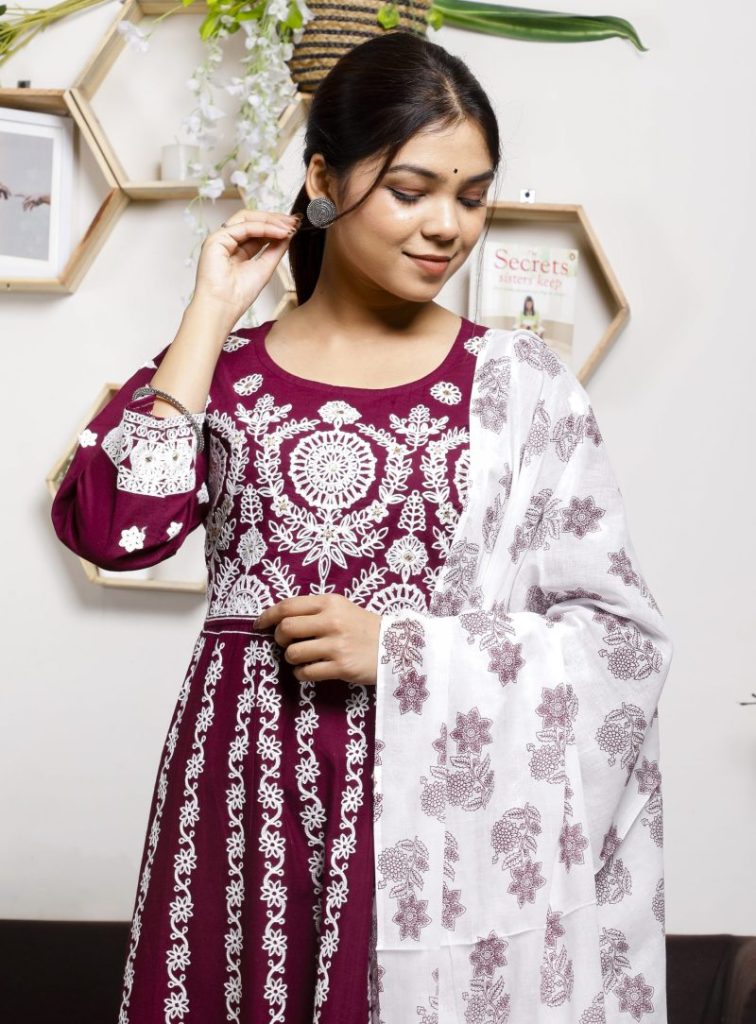 The Lucknow, India-based Chikan embroidery kurti has evolved over time and today employs a variety of designs and techniques. However, this work of art is immensely varied and fascinating thanks to the different design elements, stitch patterns, and motifs that characterise each form of Chikan embroidery. Geometrical and floral are the two primary categories of Chikan embroidery designs. Chickan embroidery anarkali suits are available in mostly the floral designs and they are so famous amongst the women in today's time.
Although there are many different types of chikankari embroidery, such as "hool" (eyelet stitch), "Jaali work," and "Banarasi styles," "Bakhiya," or shadow work, is the most popular.
Some other types of chickan embroidery are as follows:
Phanda chickan embroidery:

A subsection of the chikan embroidery family known for its complexity and finesse is the phanda stitch. This stitch is made by using a needle and a fine cotton or silk thread to sew intricate designs into tiny loops on the fabric. Due to its complexity and delicate nature, phanda is one of the trickiest chikan embroidery stitches to master, but the finished needlework is frequently breathtaking in its level of attention to detail.

Shadow work chickan embroidery:

Today's lucknow chikankari and current chikankari inspired fashion heavily incorporate this technique, which entails utilising the back-stitch, chain stitch, and running stitch to embroider white-on-white motifs from the back-side of a translucent fabric in order to create a shadow effect. The fine detail and refinement of shadow work are highly recognised. Extensive flower and paisley designs are frequently made with it.

Keel kangan chickan embroidery:

The Keel Kangan form of chikan needlework is distinguished by its intricate, minute, and exquisite creativity. The stitch gets its name from the Hindi term for "nail" or "claw," which accurately defines its shape. Keel Kangan is a type of surface embroidery frequently employed on sheer fabrics like cotton, muslin, and chiffon. Sarees, lehenga cholis, salwar kameez, and other fashionable, elegant traditional Indian outfits like gharara, sharara, etc. usually feature keel Kangan.

Floral chickan embroidery:

Floral embroidery is the term used to describe chikan embroidery on kurtas that have floral-themed designs. This stitching is widely used to create intricate and delicate designs and lend a feeling of the natural world to other types of chikan art. The embroiderer uses various techniques, such as chain stitch and satin thread, to create the petals and other floral features.

Zari chickan embroidery:

Zari is a type of chikan embroidery that is distinguished from other types by the use of metallic thread. This needlework is usually used to create elaborate and exact motifs and add some bling and sparkle to other chikan work. The metallic thread is used by the embroiderer to create lines and features that stand out against the fabric, lending the finished product a hint of elegance and beauty.
Chikankari embroidery stitches are not only exquisitely lovely, but they also successfully incorporate history, tradition, and cultural development into their intricate folds.