Salwar kameez comes in different style, and Anarkali suits is one of them. It is worn by South Asian people. The shape of such a dress is long frock style bottom, and top is slim fit. It is inspired by historical dressing style when worn with much sophistication and elegance and is designed in different styles like chikankari, embroidery, mirror work, etc. Anarkali is in Indian fashion, and the craze for such suits is never ending because they can be worn on different occasions by giving it style uniquely. 
If we talk about the bottom, then it is team with the slim legging on which the plated frock falls. The length varies from design to design, and some buy cotton Anarkali suits online length is from knee length to feet length.  It is also paired with different designs of the stole, or ' Dupatta'. It is popularly loved by women from the Northern part of India and the Middle East.
History Of Anarkali Suits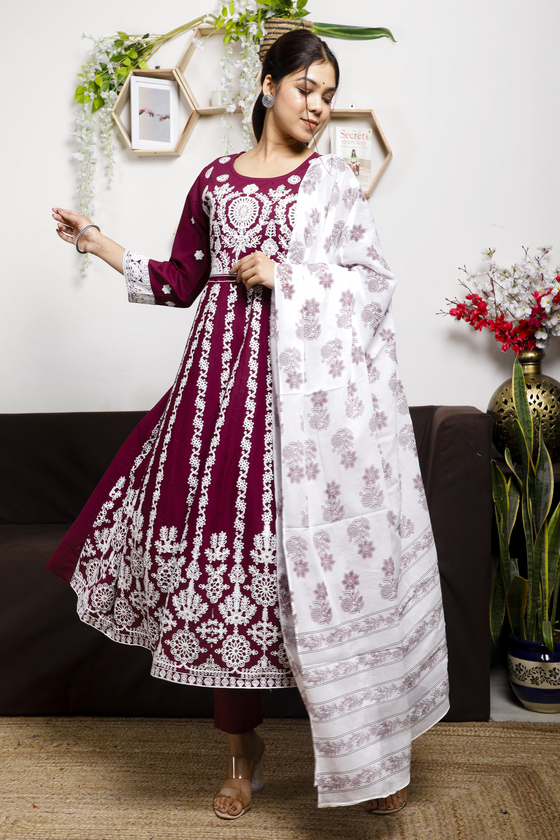 The history of Anarkali suits is quite ancient when the Mughal reign was over in India, the name 'Anarkali' came from the Mughal court. As time passed, Anarkali suits evolved with floor length and middle length. These lengths of Anarkali suits remain in trend. After the Mughal empire, this type of dress vanished from the trend, but it came back when culture revived. Anarkali suits eventually got back in demand and fashion by many women and consider it a popular salwar kameez style.
The origin of the dress is from a girl name Anarkali who was a dancer in Mughal court having great appearance and beauty the dress she wore is quite elegant and the same as the Anarkali suit. Her flowing kameez make her look beautiful and makes her stand out from other. However, in a modern revival, the dress gets into different shapes and patterns that make it more beautiful to crave. Fables tell that Anarkali dazed everyone, particularly Prince Salim though their saga ended tragically. Regardless, her passion and costume were eternalized, and that's the beginning of Anarkali suit's movement.
Different Types of Anarkali Fabrics
Anarkali suits can be worn on different occasions, and the fabric requires comfort and weather. Each fabric gives a different look. 
Silk: It is a rich texture that gives royal and elegant look. Silk Anarkali suits are often picked when any festival comes or any family celebration kind of event occur.
Georgette: Georgette fabric is lightweight, flared, and semi-transparent. It is type when chosen to wear to get a more feminine look. Embroidery work also comes in this fabric.
Cotton: Cotton fabric is breathable and comfortable that is perfect for casual wear, daily-wear or in hot weather. Cotton Anarkali suit with dupatta comes in different color and are comfortable to wear.
Some Anarkali Fashion Trends Prevalent 
Floor-length Anarkali: Anarkali suits that are of floor length are always in fashion. Such a dress creates an elegant look as the flare of the dress reaching to the floor makes it sophisticated. You can team it with a bottom and a lightweight fabric dupatta. 
Layered Anarkali: Layered Anarkali suit set with dupatta  is more popular, especially during a cultural event or any festive occasion. This dress can also wear in weddings. This type of Anarkali has multiple layers of fabric tiers which give volume and a look to the dress. 
Contemporary and fusion elements: Anarkali suits are also seen in contemporary style and a blend of traditional and modern looks. The modern designer experimented with the style of the dress by asymmetrical cuts, high-low flow, and jacket style Anarkali.
Intricate Embroidery and Embellishments: Anarkali is a royal dress, but if combined with intricate embroidery, then its beauty gets doubled. There are many types of embroidery work, like zari work, sequins, and mirror embellishments. This work can be done in any area of the suit, like the neck, sleeves, and hemline, which enhances the ultimate beauty of the dress. 
Cotton Vibrant Colors and Prints: 
Cotton Anarkali suits online are available in different colors, from bright colors to bold hues to the softest pastel shades. There are commonly available colors that remain in demand royal blue, deep red, emerald green, and golden are particularly popular.